About Us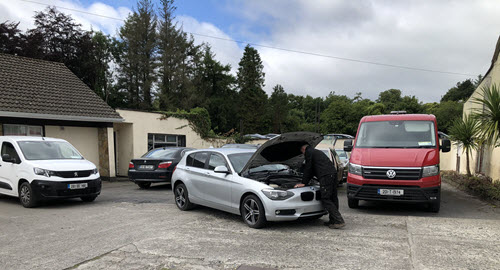 Based in Clogheen Co. Tipperary, Wyse's BMW Breakers, is Ireland's leading specialist BMW vehicle dismantler and recycled parts supplier. Established in 2002 the company has unrivalled expertise in its specialist field and has become the first choice for quality BMW recycled parts for customers all over Ireland.
Wyse's BMW Breakers was established by Jimmy Wyse and his son Frank who both have extensive knowledge and experience of BMW's. Jimmy first established a garage in the 1960's and became a BMW main dealer in 1972, continuing to sell and service BMWs until 1990. Frank worked as a BMW technician for five years, undergoing extensive official BMW training and gaining expert in depth technical knowledge of the brand.
In line with the ongoing popularity of BMW vehicles, Wyse's BMW Breakers was set up and has developed into one of the largest and most respected specialist businesses of it kind in Ireland recognised for its expertise and high standards of service.
Wyse's BMW Breakers is a fully Authorised Treatment Facility for End of Life Vehicles and will collect and dispose of end of life vehicles in line with all Irish and European Union regulations. This includes the issuing of Certificates of Destruction where required.
Once collected, vehicles and expertly dismantled and depolluted by our experienced team with parts for resale cleaned, checked, catalogued and placed into stock. We work with all BMW models, of any ages, including cars and SUVs. We also have great expertise when it comes to MINI vehicles.
This means that we always have a huge selection of BMW and MINI parts in stock and available for immediate delivery and collection. Through the expertise and experience of our team when it comes to BMW, we can quickly help customers to indentify the parts they require, allowing repairs to be completed in less time. Our team also prides itself on providing friendly and helpful customer service and are happy to answer any questions you may have.
We can deliver parts nationwide via courier, generally on an overnight basis and all parts are priced competitively, allowing customers to make considerable savings.